Questions & answers from the Webinars 2022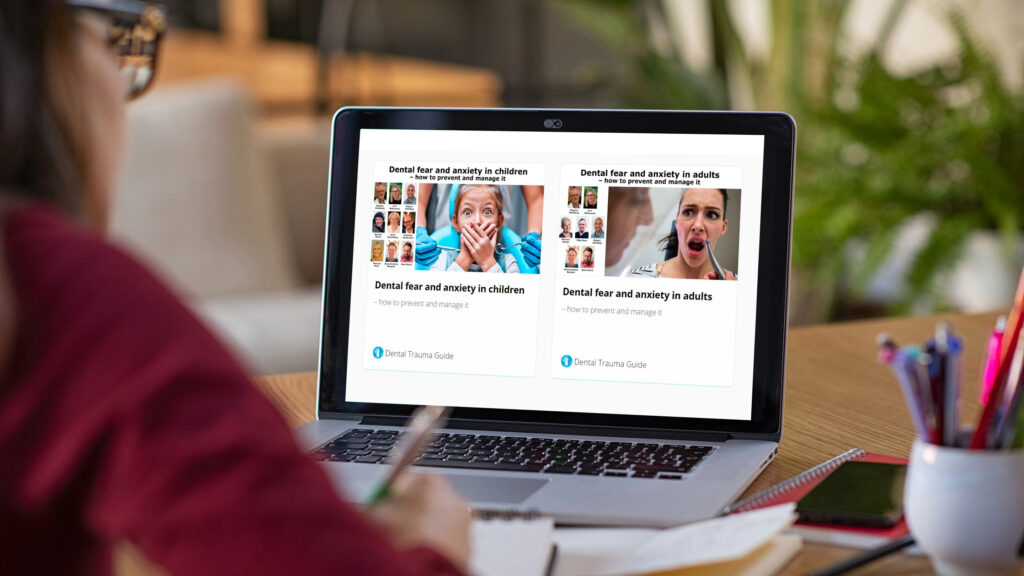 Here are the questions, answers and comments regarding the lectures of Copenhagen Webinars 2022
Webinar: Dental fear and anxiety, general consideration
Speaker: Magnus Hakeberg
Q: Hi Magnus,
Thank you for a good webinar session.
How long is a typical treatment at your clinic before the patient is referred to general dentist again? Weeks, months, years?
Mette Sinkjær Kenney
A: Using the treatment program including CBT with a psychologist that means about 10 sessions (counting test treatments with a dentist, 2 sessions). If a straight scheme is followed, thus no cancellations sick-leave etc, we expect about 2 months before we refer the patient to a general dental clinic for further needed dental care.
---
Webinar: CBT and ICBT in children – Evidence based treatments for patients with dental fear and anxiety
Speaker: Robert Schibbye
Q: Hello, I am a pediatric dentist from Finland, Tampere University hospital. I am very interested in CBT treatment and would like to know more about it. Can you advice online courses or do you have any contacts in Finland who are treating CBT? Best regards, Egle Immonen.
Egle Immonen
A:
Dear Egle,
Thanks for your interest. Unfortunately I do not know about courses in Finland or who to contact there. But email me on robert.schibbye@ki.se for some additional help. We are offering courses here in Sweden if you feel confident enough to participate in Swedish.
Otherwise see the above comments for further readings in the subject. There should also be CBT trained psychologists in Finland used to treating specific phobia. Try to get in contact with them and see if there is any possibility of working together. It's important however that they have CBT training so make sure they have this since other types of psychological treatments are not evidence-based for specific phobias.
Good luck with everything and don't hesitate to contact me for further information!
Sincerely
Robert
EXTRA:
Dear all,
I have received some much appreciated interest and questions regarding CBT, how it can be implemented in dentistry and further readings in the subject.
As a general recommendation for further reading, I recommend the dissertation "Cognitive behavioral therapy for children and adolescents with dental phobia" by Shahnavaz, Shervin at Karolinska Institutet. The digital version can be found here: https://openarchive.ki.se/xmlui/handle/10616/45319
Also the book Cognitive Behavior Therapy for Dental Phobia and Anxiety by Lars-Göran Öst and Erik Skaret is highly recommended: https://www.amazon.com/Cognitive-Behavioral-Therapy-Dental-Anxiety/dp/1119960711
If you would like to see how a CBT manual for medical phobias can look I also provide a link to a free published CBT manual for that as well: https://martinantony.com/wp-content/uploads/Overcoming-Medical-Phobias1.pdf
Hope that can give some insights for further readings. Don't hesitate to contact me if you have any further questions!
Sincerely Robert
---
Webinar: Patient communication – how to win trust and communicate effectively with patients
Speaker: Robert Schibbye
Q: Thanks for the nice informative lecture- are there any online lectures or coursed in motivational interviewing?
Sharifa Al Harrasi
A: Hello Sharifa,
I recommend you to go to the MINT trainers website:
https://motivationalinterviewing.org/motivational-interviewing-training
Here you can find information of many opportunities to take online classes from persons who have a good training in Motivational Interviewing.
---
Webinar: Child abuse and neglect
Speaker: Therese Kvist
Q:
It's a difficult issue when it comes to dental caries alone- cause sometimes parents/ grandparents in my country consider sweets as pamparing the child
the other thing – when children are taken forcebly from their parents and never to see them again – is'nt that cruel as well to both parent and child!
Sharifa Al Harrasi
A:
I also have experience of providing children with sweets as something parents/grandparents do to be nice or make the child happy/calmer. However, when discussing neglect we have to change perspectives to the child's perspective. What happens to the child in the longterm if we continue to provide the child with sweets/candy/soda and the child continuously have progression of dental caries that lead to restorations or loss of teeth? Neglect is when the caregivers fails to provide the child with care, nutrition or safety, and in such cases they are unaware or unable to give their child healthy food and prevent them from disease. Discussing the childs needs for health with parents/grandparents can help them to understand/become aware of why they should minimize to provide children with candy and sweets.
When children are in need of living somewhere outside the home, the childs safety or care are at high risk. The social services/child protection often work together with the caregiver and the child, and always consider the best of the child when arguing for childrens needs. In some situations, for example, when the child is exposed to sexual abuse or physical abuse by a parent, parental drug addiction, when parents are unable to care for their child, the social services must make the decision of the childs best interest and safety- and that might be to be placed in out of home care.
I hope these comments, was helpful.
All the best
Therese
---
---
COMMENTS
Webinar: How to meet patients with mental disorders in the oral health care
Speaker: Anne Kristine Bergem
Comment: Some superb content and ways of approaching/ phrasing challenging topics.
Many thanks, Niall Neeson
---
Webinar: How do I approach children in different age groups – which non-medical tools should I use
Speaker: Anne Rønneberg
Comment: Wonderful lecture- 1st time I get to know the circle of security. Thanks a lot.
Sharifa Al Harrasi
---
Webinar: Clinical tips and tricks
Speaker: Mike Gow
Comment: Thank you so much, I've always been passionate about learing more about this topic of managing fearful patient.
Sharifa Al Harrasi
---
Webinar: Hypnosis in dental practice
Speaker: Mike Gow
Comment: Thank you so much- the best part it's online so I did not miss this oppurtunity to get wealth of information at the comfort of my house!
Sharifa Al Harrasi
---
Webinar: Learning psychology – how fears are learned and unlearned
Speaker: Robert Schibbye
Comment: Really enjoyed this lecture Robert. Thank you, Niall Neeson
---
Webinar: Learning psychology – how fears are learned and unlearned
Speaker: Robert Schibbye
Comment: Very interesting and a simple way of understanding to the dentist who in return be able to help their patients hopefully.. can't wait for the next lecture.
Sharifa Al Harrasi
---
Webinar: CBT and ICBT in children – Evidence based treatments for patients with dental fear and anxiety
Speaker: Robert Schibbye
Comment: I would like to be part of ICBT research in my country Oman and ready to translate the material into Arabic language to help teenagers and even adults who might be having severe anxiety and fear towards dental treatment
Sharifa Al Harrasi
---
Webinar: Patient communication – how to win trust and communicate effectively with patients Robert Schibbye
Speaker: Robert Schibbye
Comment: Thank you for this very good presentation!
Petra Mosskull Hjertton
---
Webinar: Sedation and CBT in general practice (adults)
Speaker: Mariann Saanum Haug
Comment:
Excellent. I'm glad it is done online and you gave enough time to present the material compare if it was a short lecture in a conference!
Thank you so much.
Sharifa Al Harrasi