Welcome to Copenhagen
Copenhagen is a city worth visiting for many reasons! Not only is Copenhagen Symposiums hosted in the lovely capital of Denmark, Copenhagen also has attractions and sights to suit every taste and interest. It's all there, the urban vibes in the cobbled streets, the castles and bell towers, the parks and the green grass, the architecture, the unique café culture, the gastronomic experiences, the Prince and the Queen, the history! The city pulse and the distinct Nordic feel will make you want to return time and time again.
As a tourist in Copenhagen there are lots of great offers when it comes to transportation. The city is small enough for wandering through at your leisure, or to explore on a bike Copenhagen-style, yet large enough to go on a new adventure every day without uncovering the whole city.  Copenhagen is known for its biking paths and cycling culture. Biking gives you the freedom you need during your stay and gives you a perfect opportunity to discover the city in an authentic way. For the most flexible bike renting experience, Donkey Republic has various public pick-up and drop-offs throughout the city and allows you to lock and unlock as much as you need with just a tap in their app.
---
Public transportation
If you would rather use public transportation while exploring, do not worry. The network in Copenhagen is one of the best in the world! You can easily and inexpensively get access with a DOT City Pass. With a City Pass you'll get unlimited travel in central Copenhagen, with both busses, trains and metros. City passes are available as a 24, 48, 72, 96 or 120 hour-pass. Go online to purchase your city pass, or buy it in DSB ticket machines at the train stations or in DSB Salg & Service at Copenhagen Central Train Station.
It is also possible to buy single tickets per journey, but remember to bring coins with you or download the app.
It's recommended that you take the metro from/to Copenhagen Airport. It's the fastest and cheapest choice. Copenhagen Symposium is held at the University Hospital of Copenhagen (Rigshospitalet), only a 30 minute metro ride from the airport.
To plan your routes please use the web app 'Rejseplanen' (journey planner). The planner will direct you anytime, anywhere, in just a second.
---
Program
Here you can download programs the two symposiums:
Pathological Resorption of Teeth
Tooth Replacements in Young Adults
---
Copenhagen Card
If you consider extending your stay or to do a lot of sightseeing during your stay, a Copenhagen Card is beneficial.
With a Copenhagen Card in your hand you can visit more than 70 museums and attractions. Furthermore, you are allowed to use the public transportation system for free as well. Just like the City pass, just more exciting and with a lot more money to save. A Copenhagen Card can be purchased with a validity period of 24, 48, 72 or 120 hours. Within these hours busses, metros and trains are free of charge, as long as the journey stays within zones 1–99.
Purchase the card on stations in the capital or online. Do you want more information? Read all about Copenhagen Card.
For more inspiration during your stay, have a look at Visit Copenhagen and Wonderful Copenhagen.
---
Rigshospitalet and parking information
The symposium will be held at:
Copenhagen University Hospital (Rigshospitalet), Auditorium 1, Blegdamsvej 9, 2100 Copenhagen, Denmark.
Area map of Rigshospitalet and bus/parking options (click it big).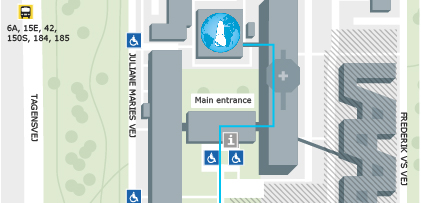 ---
Buy tickets
You can choose to buy tickets for one or more symposium.
---