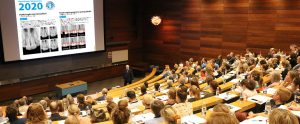 On behalf of the Dental Trauma Guide team, it is our pleasure to invite you to participate in the Copenhagen Symposiums 2020.
We have just opened up for registration and you will receive an Early Bird discount, if tickets are booked before January 31, 2020.
Copenhagen Symposiums 2020
DTG Team will in May 2020 hold its 10th Copenhagen Symposium, which will cover two separate topics:
Pathological Resorption of Teeth – May 13-14, 2020
Why – and how can they be treated or avoided?
Overseen or wrongly treated tooth resorption is a constant risk. Within the last 10 years new knowledge has accumulated on how to perform effective treatments, which may save such affected teeth. Ten internationally recognized experts will lead you through this jungle of various resorption activities, which have so many different causes and should be treated according to etiology.
Click here to read more about this symposium.
Tooth Replacements in Young Adults – May 15-16, 2020
– challenges and possible solutions

Tooth loss in young adults usually represents a therapeutic nightmare due to the fact, that the jaws are not complete until the late twenties. Furthermore, some procedures such as implants are very technique sensitive to installation procedures. Ten international experts will lead you through this extremely complicated issue and point out safe procedures.
Click here to read more about this symposium.
More information
Visit us HERE for registration and additional information on Copenhagen Symposiums 2020.
Sincerely,
The team behind The Dental Trauma Guide