Here you can find practical information about the Copenhagen Symposia 2021.
More information may come later.
Location
The symposium will be held in Auditorium 1 at Copenhagen University Hospital (Rigshospitalet), Blegdamsvej 9, 2100 Copenhagen, Denmark.
Finding Auditorium 1:
From the main entrance at Blegdamsvej 9 turn right, go straight forward until you see the elevators (entrance 3). Before the elevators, turn left and pass Café Arcaden. With the next section of elevators (entrance 2) now on your right, turn left again and go through the glass corridor. You now come to Auditorium 1 where you can register. Please see the map below (follow the RED line).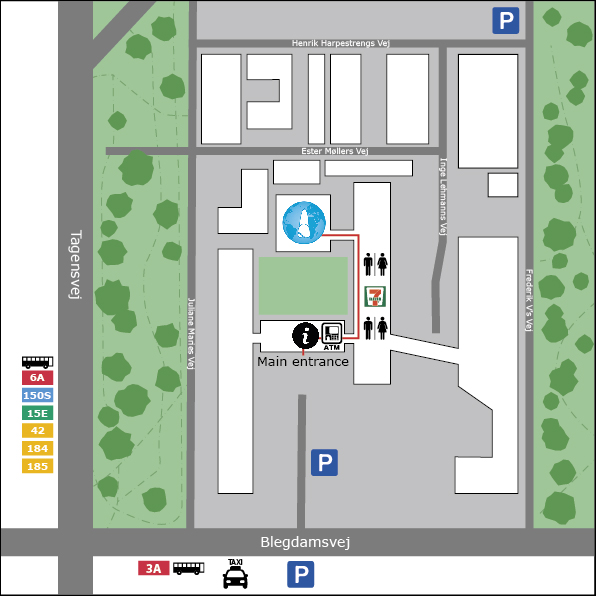 Parking
It is possible to park close to the hospital, but it can sometimes be hard to find a spot.  Therefore, we strongly recommend that you use public transportation or take a taxi. (See the section about public transportation.)
NB! Please note that there is a lot of construction going on in and around the hospital.
Weekdays
Parking in the hospital area is only allowed for patients and employees with a parking license from Monday to Friday. Therefore, it is necessary to park on the streets next to the hospital.
We recommend Edel Sauntes Allé, Øster Allé, Blegdamsvej and Frederik V's Vej (see the map). The cost of parking is approx. DKK 11 per hour (equivalent to approx. EUR 1.5 or USD 1.70). Please check the parking sign boards if you need further information.
Weekends
There is free parking in the hospital parking areas during the weekend, but at the moment there are not many available.
---
Public transportation
The Copenhagen University Hospital (Danish translation on information displays as  'Rigshospitalet') is easily accessible by public transportation. Buses passing the hospital: 6A, 3A, 42, 150S, 184, 185.
From Copenhagen Airport: Take the metro to Nørreport Station, from Nørreport Station take bus 150S (direction Kokkedal St.) or 6A (direction Buddinge St.)
From the Central Train Station ('Hovedbanegården'): Take bus 6A (direction Buddinge St.).
Please visit www.rejseplanen.dk to check bus and train schedules as well as prices.
---
Program
You can soon download the programs for Copenhagen Symposia 2021 here.
---
Turist information
For tourist information about Copenhagen please visit www.visitcopenhagen.com and www.aok.d