IADT treatment guidelines for lateral extrusion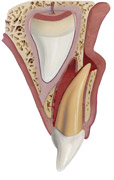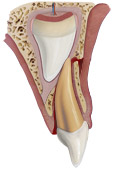 Clinical findings
The tooth is displaced, usually in a palatal/lingual or labial direction.
It will be immobile.
Radiographic findings
Increased periodontal ligament space apically is best seen on the occlusal exposure. Someties an occlusal exposure can also show the position of the displaced tooth and its relation to the permanent successor.
Treatment
If there is no occlusal interference, as is often the case in anterior open bite, the tooth is allowed to reposition spontaneously.
If minor occlusal interference, slight grinding is indicated.
When there is more severe occlusal interference, the tooth can be gently repositioned by combined labial and palatal pressure after the use of local anesthesia.
In severe displacement, when the crown is dislocated in a labial direction, extraction is the treatment of choice.
Follow-up
1 week – Clinical examination.
2-3 weeks – Clinical examination.
6-8 weeks – Clinical and radiographic examination.
1 year – Clinical and radiographic examination.
---