IADT treatment guidelines for enamel-dentin fracture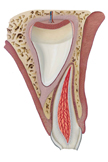 Clinical findings
Fracture involves enamel and dentin; the pulp is not exposed.
Radiographic findings
No radiographic abnormalities. The relation between the fracture and the pulp chamber will be disclosed.
Treatment
If possible, seal the involved dentin completely with glass ionomer to prevent microleakage. In case of large lost tooth structure, the tooth can be restored with composite.
Follow-up
3-4 weeks – Clinical examination.
---