IADT treatment guidelines for crown-root fracture without pulp involvement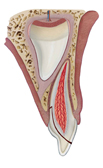 Clinical findings
Fracture involves enamel, dentin and root structure; the pulp may or may not be exposed.
Additional findings may include loose, but still attached, fragments of the tooth.
There is minimal to moderate tooth displacement.
Radiographic findings
In laterally positioned fractures, the extent in relation to the gingival margin can be seen. One exposure is necessary to disclose multiple fragments.
Treatment
Depending on the clinical findings, two treatment scenarios may be considered:
Fragment removal only. If the fracture involves only a small part of the root and the stable fragment is large enough to allow coronal restoration.
Extraction in all other instances.
Follow-up
In cases of fragment removal only:
1 week – Clinical examination.
6-8 weeks – Clinical and radiographic examination.
1 year – Clinical and radiographic monitoring until eruption of the permanent successor.
---