IADT treatment guidelines for alveolar fracture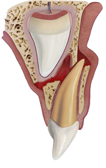 Clinical findings
The fracture involves the alveolar bone and may extend to the adjacent bone.
Segment mobility and dislocation are common findings.
Occlusal interference is often noted.
Radiographic findings
The horizontal fracture line to the apices of the primary teeth and their permanent successors will be disclosed.
A lateral radiograph may also give information about the relation between the two dentitions and if the segment is displaced in labial direction
Treatment
Reposition any displaced segment and then splint.
General anesthesia is often indicated.
Stabilize the segment for 4 weeks.
Monitor teeth in fracture line
Follow-up
1 week – Clinical examination.
3-4 weeks – Splint removal, clinical and radiographic examination.
6-8 weeks – Clinical and radiographic examination.
1 year – Clinical and radiographic examination, clinical and radiographic monitoring until eruption of the permanent successor each subsequent year until exfoliation.
---