IADT treatment guidelines for infraction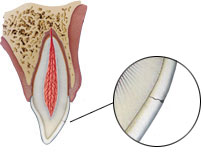 Clinical findings
An incomplete fracture (crack) of the enamel without loss of tooth structure.
Not tender. If tenderness is observed, evaluate the tooth for a possible luxation injury or a root fracture.
Radiographic findings
No radiographic abnormalities.
Radiographs recommended: a periapical view. Additional radiographs are indicated if other signs or symptoms are present.
Treatment
In case of marked infractions, etching and sealing with resin to prevent discoloration of the infraction lines. Otherwise, no treatment is necessary.
Follow-up
No follow-up is generally needed for infraction injuries unless they are associated with a luxation injury or other types of fracture.
---