Here you can find practical information about the Copenhagen Symposia 2023.
More information may come later.
Location
The symposium will be held in Auditorium 1 at Copenhagen University Hospital (Rigshospitalet), Blegdamsvej 9, 2100 Copenhagen, Denmark.
Finding Auditorium 1:
The fastest access is through entrances nr. 44 or 2. If you enter from the main entrance at Blegdamsvej 9 turn right, go straight forward towards entrance 3. Before the elevators, turn left and pass 7Eleven and Café Arcaden. Turn left again and go through the glass corridor. You will now arrive at Auditorium 1 where you can register. Please see the map below and follow the RED line.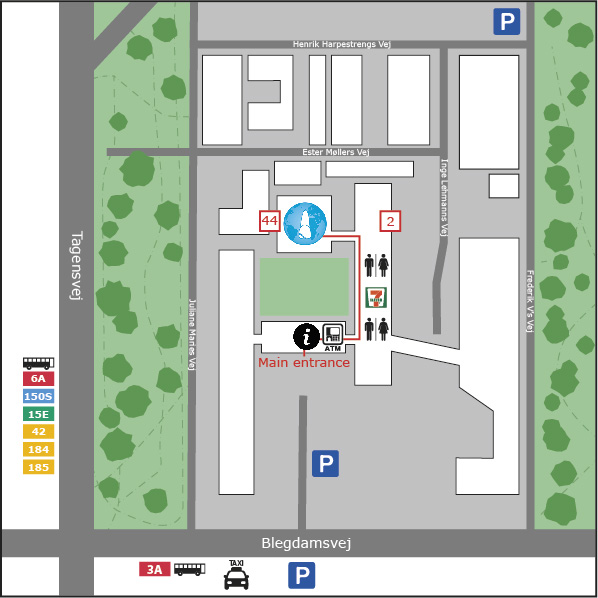 How to get to University Hospital of Copenhagen
On weekdays between 06.30 – 15.00 parking options are limited. It is possible to park close to the hospital, but it can be hard to find a spot.  Therefore, we strongly recommend using public transportation or taking a taxi. (See the section about public transportation.)
NB! Please note that there is a lot of construction going on in and around the hospital.
By car:
Parking at the hospital area is only allowed for patients and employees with a parking permit from Monday to Friday. It is, therefore, necessary to park on the streets next to the hospital.
We recommend Edel Sauntes Allé, Øster Allé, Blegdamsvej and Frederik V's Vej.
The cost of parking is 15 DKK per hour (approx. 2 USD) – And often the parking around the hospital requires the apps "Easy Park" or "APCOA FLOW".
* Notice there is a lot of construction going on in and around the hospital;
we strongly recommend taking public transportation
Please check the parking sign boards if you need further information or visit: Public parking in Copenhagen  (information also available in English).
---
Public transportation:
Public transportation is by far the easiest, cheapest, and fastest way to get around in Copenhagen – also when visiting University Hospital of Copenhagen, Rigshospitalet.
You can buy a city pass that will give you unlimited travels on busses, trains, and metros for 24, 48, 72, 96 or 120 hours in your selected zone.
You can choose between 5 zones; however, most will be fine with the "Small" city pass that covers Central Copenhagen (incl. to/from the airport)
You can read about all the passes here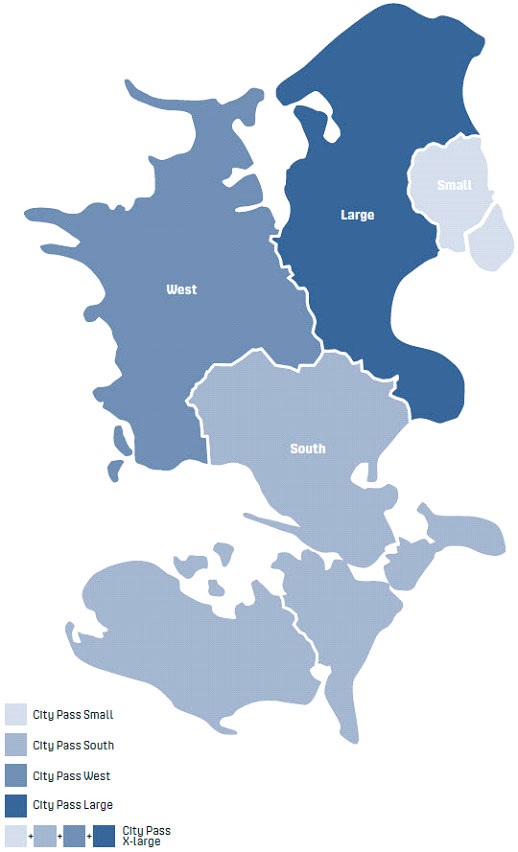 The public transportation in Copenhagen is very efficient, and if you are staying in Central Copenhagen, you can use Copenhagen's 4 metro lines 24 hours a day, 7 days a week. On all metro lines you can expect to wait a maximum of 4 minutes during rush hours.
Metro:
The closest metro line to University Hospital of Copenhagen is M3, Trianglen St. (a 10 min. walk from the hospital)
From airport:
⦁ M2 Vanløse St.
⦁ Change at Kongens Nytorv St.
⦁ M3 via Østerport
⦁ Get off at Trianglen St.
From Copenhagen Central Station:
⦁ M3 via Kongens Nytorv
⦁ Get off at Trianglen St.
Bus:
The closest bus stop is Rigshospitalet Syd.
Buses passing the hospital: 6A, 3A, 42, 150S, 184, 185.
You can buy all city pass tickets in the DSB ticket machines at the train stations, in the "DSB Salg & Service" store at Copenhagen Central Train Station, or through the DOT mobile app called "DOT billetter"
Prices for the "Small" city pass for Central Copenhagen:
24 hours 80 DKK (12 USD)
48 hours 150 DKK (22 USD)
72 hours 200 DKK (30 USD)
96 hours 250 DKK (37 USD)
120 hours 300 DKK (44 USD)
Download the DOT mobile app for tickets and city passes:
Apple
Google
You can visit rejseplanen (Journey Planner) for schedules and driving plans for all types of public transportation.
Taxi
You can of course also take a taxi for convenience – please note that there is an initial set fee of 39 DKK (6 USD), and additional price pr. minute and price pr. kilometer. The final price for taxis can, therefore, vary.
It is possible to get a fixed price beforehand in the app so there are no surprises. This can be an advantage if you are driving during rush hours where it may take longer to arrive.
Just for reference, the fixed price from the Copenhagen Airport to University Hospital of Copenhagen is 366 DKK (54 USD).
You can pay with credit card in all taxis. Note there is a credit card fee if you are from outside of the EU. The fee depends on your credit card issuer and the transaction amount – usually it is between 1-3% of the total amount. You can also pay with Apple Pay and Google Pay.
You can download the app here:
Apple
Google:
The language in-app will adapt to your phone setting, and can only be downloaded when in Denmark.
You can also call +45 35 35 35 35 for booking or any related queries.
The average waiting time for a taxi is 5 minutes.
---
Staying a few days extra?
For tourist information about Copenhagen please visit www.visitcopenhagen.com
formation
In case you want to visit the outer skirts of Copenhagen, you need the "Large" city pass , and the "S-trains" will take you. You can expect to wait a maximum of 10 minutes on these trains.
Attractions
We have collected a few attractions that you might find interesting to explore while being in Copenhagen in October. You can also look at Visit Copenhagen for inspiration – There are a lot more to Copenhagen than these suggestions. However, be aware that many places are closed in the winter half-year, so check opening hours beforehand.
Art museums:
Copenhagen Contemporary
An international art center showing installation art created by world stars and new emerging talents, Copenhagen Contemporary occupies the magnificent former B&W welding hall offering a total of 7,000 m2 of beautiful industrial halls with plenty of space to show the technical and large formats in which many contemporary artists work. Art can often be entered and sensed with the whole body.
Opening hours:
Wednesday 11:00 – 18:00
Thursday 11:00 – 21:00
Friday 11:00 – 18:00
Saturday 11:00 – 18:00
Sunday 11:00 – 18:00
Entry fee: 120 DKK (18 USD)
The National Gallery of Denmark
The National Gallery of Denmark features Danish and international art from the past seven centuries. No other museum in Denmark shows such a rich and varied selection of art – from the European classics of the Renaissance to the overwhelming diversity of modern and contemporary art.
Opening hours:
Tuesday – Sunday 10:00 – 18:00
Wednesday 10:00 – 20:00
Entry fee: 120 DKK (18 USD)
Glyptoteket
Glyptoteket displays ancient and modern art in truly unique surroundings. Step inside and discover a beautiful building with high ceilings and a showstopping centerpiece winter garden full of palm trees surrounding a fountain and pond. The gallery is divided into ancient and modern collections. The Department of Antiquities houses excellent collections of Egyptian, Greek, Etruscan and Roman art, providing a delightful journey through 3500 years of art and history. Stroll the hallways lined with marble statues, and you can imagine yourself in Ancient Greece, Egypt or Rome.
Opening hours:
Tuesday – Sunday 10:00 – 17:00
Thursday 10:00 – 21:00
Entry fee: 125 DKK (19 USD)
Cisternerne
Forget everything about traditional art museums and exhibition spaces. Nowhere else in Denmark does art become one with the physical surroundings to such an extent as in Cisternerne!
Today Cisternerne is a subterranean art space, where you can withdraw from daily life, where time stands still, and where the mobile signal doesn't reach. When the cold climate in Cisternerne embraces you, you are not simply looking at art – you are completely immersed in art.
Opening hours:
Tuesday – Sunday 11-18
Thursday 11-20
Monday closed
Entry fee: 115 DKK (17 USD)
Historic museums:
National Museum of Denmark
Go time travelling at Denmark's key history museum. The National Museum showcases everything from Viking treasure and the Egtved girl's grave to Egyptian mummies, Renaissance art and the present day.
Opening hours:
Tuesday – Sunday 10-17
Entry fee: 120 DKK (18 USD)
Amalienborg Palace
At Amalienborg Palace in the heart of Copenhagen, you can visit the seat of one of the world's oldest monarchies and go behind the scenes in a real royal palace. Don't miss the palace square where you can watch the unforgettable changing of the guards at noon. Every day you can watch the changing of the guards as they march from their barracks by Rosenborg Castle through the streets of Copenhagen to Amalienborg, often accompanied by music.
You can also visit "Amalienborg Museum" that gives you access to the private interiors of the most recent kings and queens along with an exhibit on the monarchy today with its many traditions.
Opening hours:
Tuesday – Friday 10:00 – 15:00
Saturday – Sunday 10:00 – 16:00
Entry fee for Amalienborg museum: 120 DKK (18 USD)
Gardens:
King's Garden (Kongens have)
Also known as Rosenborg Garden, the beautiful King's Garden in central Copenhagen is the country's oldest royal gardens. The gardens are a popular retreat in the center of Copenhagen today, and are visited by an estimated 3 million people per year.
The Botanical Garden
The Botanical Garden is Denmark's largest collection of living plants. It's a free public green space to roam and relax, filled with more than 13.000 species: Rare trees, shrubs and herbs.
In the middle of the garden is the "The Palm House" where you for a small entry fee can explore exotic and rare plants, which grow in different tropical and subtropical environments. Giant Bamboo, large palms, spectacular flowers and carnivorous plants are just a small selection of the botanical collection you can experience in the Palm House. Tickets are bought at the entrance.
Opening hours:
Tuesday – Sunday 10:00 – 15:30
Entry fee for the palm house: 60 DKK (9 USD)
Urban spaces:
CopenHill
CopenHill is Copenhagen's epicenter for urban mountain sports. They offer a number of outdoor activities in the middle of Copenhagen. CopenHill is a unique opportunity to do activities at a level and at a height that has not been possible in the city before, for example skiing or snowboarding – without snow!
Opening hours:
Monday CLOSED
Tuesday 14:00-19:00
Wednesday 14:00-19:00
Thursday 14:00-19:00
Friday 14:00-19:00
Saturday 10:00-19:00
Sunday 10:00-17:00
Price: 150 DKK/hour (22 USD/hour)
Broens Gadekøkken
Broens Gadekøkken is a meltingpot of street food kitchens and bars that serve tasty food and beverages from all over the world. Here you can enjoy world class street food from renowned restaurants and chefs from Copenhagen where quality, good ingredients and great taste are the key elements. A perfect opportunity to try multicultural cuisines.
Broens Gadekøkken is at the inner Harbor bridge between Christianshavn and Nyhavn. Nyhavn is one of Copenhagen's most iconic sights and one of the locals' favorite places to sink a cold beer. Nyhavn's buildings aren't the only colorful thing about the area – its history is colorful too. Originally it was a commercial port where ships from all over the world would dock, and it was packed with sailors visiting its pubs, alehouses and ladies of pleasure.
And fun fact: The famous Danish fairytale writer Hans Christian Andersen used to live in no. 20.
Opening hours for Broens Gadekøkken:
Everyday 12:00 – 20:00